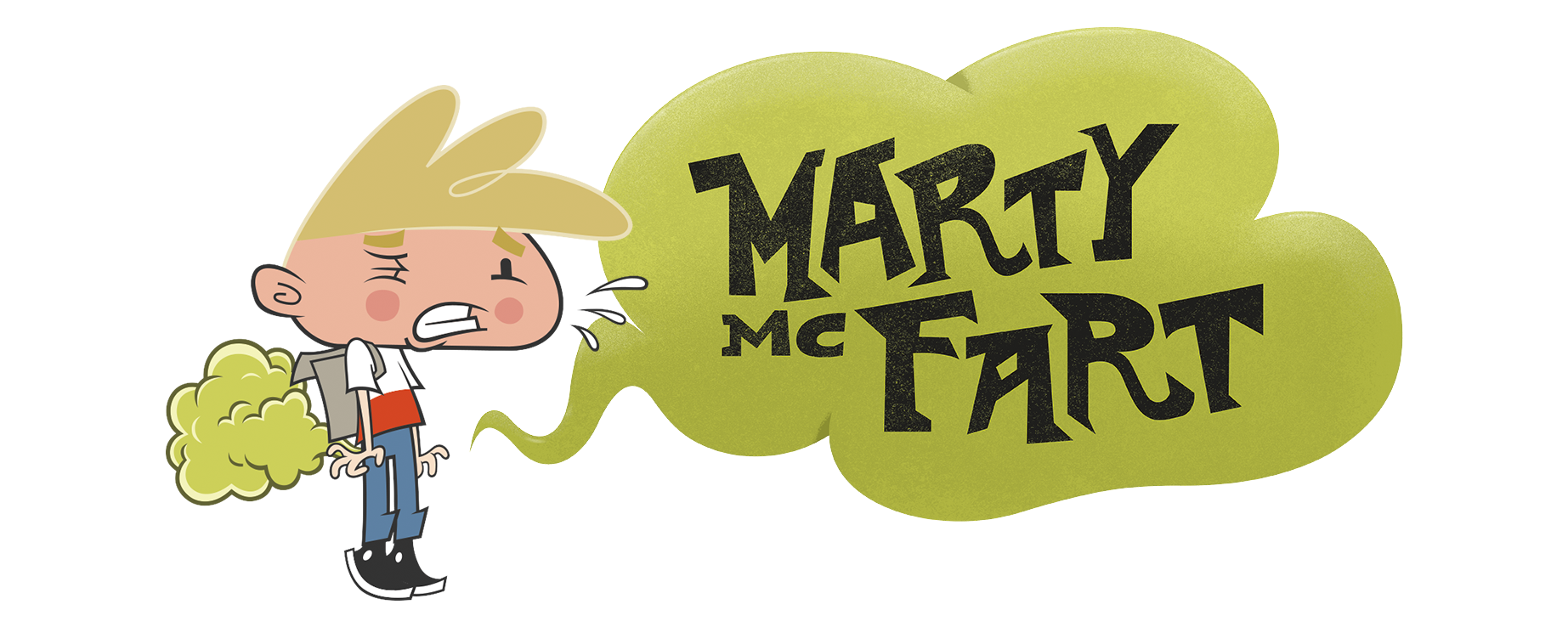 Marty McFart
A downloadable game for Windows and macOS
The world's first Fart 'n' Run!
Marty's a little kid with BIG problems: He's a long way from home and he just can't stop farting! The goal of the game is to help him get back safely – using his infinite farting power to solve puzzles and stink out foes!
Marty McFart is a 2D Jump 'n' Run with intuitive controls and challenging level designs. Its highlight is the main character's ability to generate a lot of natural wind power! Players can choose the direction of each fart and activate the game's physics engine to let rip. This allows Marty to control hot air balloons, boats and other objects.
We're still working on the game, but you can download and play our demo version.
| | |
| --- | --- |
| Status | Prototype |
| Platforms | Windows, macOS |
| Rating | |
| Author | Team Marty |
| Genre | Platformer |
| Tags | 2D, Cartoon, Comedy, Comics, Cute, Funny, one-hit-kill, Puzzle-Platformer, Singleplayer, supernatural |
Download
Click download now to get access to the following files:
MartyMcFart_Demo_Windows.zip
100 MB
MartyMcFart_Demo_Mac.app.zip
101 MB
Comments
Log in with itch.io to leave a comment.
Is this game still being worked on?
Fartastic :o Love the design

I talked about this game and recommended it on my radio show in the gaming section at the end (goes out on-air tonight) 👍
Recording the show was fun as we allow the listeners to join-in.
Several use soundboards and their fart samples are a common interruption, so they were very happy.
Thank you. Sounds funny. Is it possible, to listen to the radio show (afterwards)?
sorry for the delay, yes the radio station has a few recent episodes.
The shows are currently recorded at home and are intended for a late night audience, so there may be occasional swearing.
Thank's for the nice video
What a farty fun 👍, nice game!
This game is imature, silly and nothing but toilet humour.
I approve 👍
Smooth and full of character, just like one of your own.
Not completed it but found a bug and have 1 question.
Bug: During the section where you navigate the ballons, at one point when the ballons burst, the camera followed the box to the bottom of the map instead of the player. It did not return the view up to the player after the box was gone.
Q: Is it actually possible to collect the first bean ?
I am wondering how many classic fart-gags can be woven into this.
eg. "as welcome as a fart in a space-suit".
Also euphemisms for almost following through such as "the turtles head".
eg. could be a section where you have to force a turtles head back in before you can progress.
I'd like to see a bit more interactivity with the environment such as making leaves and small plants move, maybe even some innocent insect life such as the occasional butterfly which could end up being blown away or the wings off so it scuttles away.
I am hopeful at some point I find a lighter and get flame-thrower ability.
Spoiler: You can run into the house (through the open door). You will find the flame-thrower and the the possibility to collect the first bean. Thank you for the helpful feedback and nice ideas
Amazing game dev :D i hope you enjoy my gaemplay
Thank you for making this video. "Don't mess with my farts!" Damn right! And you found a glitch (second beaver). Think, we will correct this.